18 Aug

An Interview with Emily Higgs – Winner of BCU Award for Craftsmanship
Emily Higgs was selected as one of the winners of Birmingham City University's Textiles Award for Craftsmanship by Katy Sadler, Learning and Engagement Manager at Craftspace. We will be showcasing Emily's work on the blog and on our social media.
Emily graduated from the Textiles Design BA course at Birmingham City University (BCU) this year. In this interview she delves into her passions and inspirations for her practice as well as highlighting the particular challenges she and her peers have faced this year.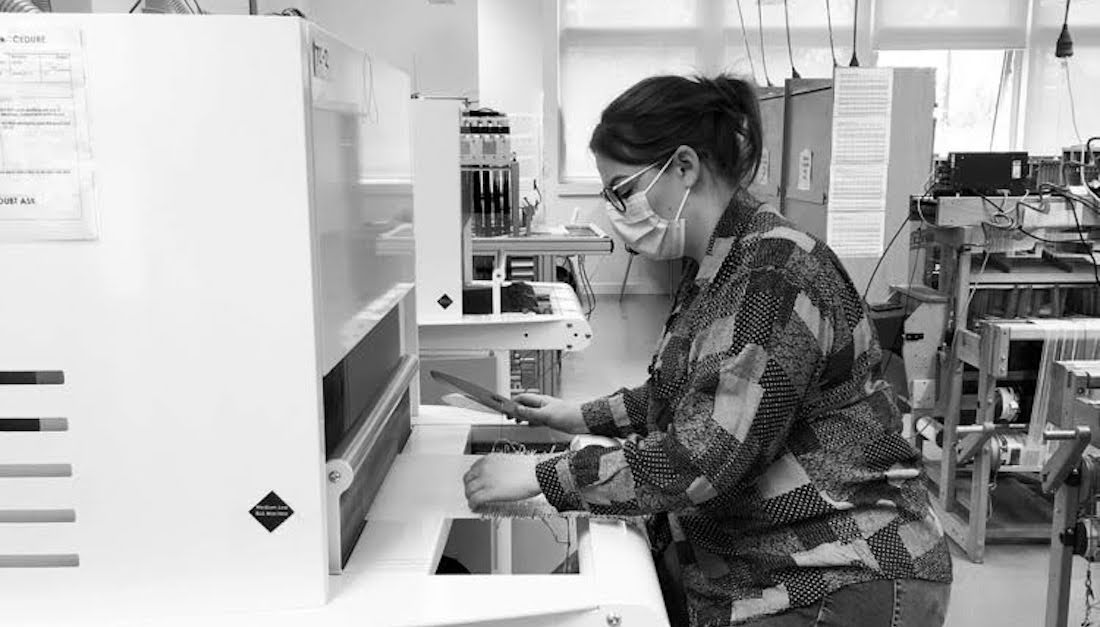 Tell us about your final major project, and the themes, techniques, and ideas you explored and developed.
My final project is entitled 'Sedimentary Narrative': a range of woven material concepts and fabrics for 'homely office' interior spaces. It centres around the conflict between Control and Mania during the formation of sedimentary rocks and minerals. I was fascinated by how the slightest alteration in the delicate balance of substances, under controlled combinations of heat and pressure, can completely alter the outcome of a mineral. This idea is explored both visually and structurally through tension and pressure play on and off the loom. Particularly focusing on the linear patterns of Banded Iron Formations, I explored floating warp and weft, considered interjections of colour, layered surface textures, and material manipulation techniques to create understated yet beautifully dramatic fabrics and bespoke woven pieces. I am driven by quality artisan processes, so all my fabrics are carefully handwoven using 24 shaft Dobby looms, Jacquard looms, and my tapestry frame loom. Using the traditional Ikat winding technique to hand dye my yarns, I was able to evoke the transitional qualities of these formations through colour; and when woven, it mimics the unpredictability of minerals, as you can't accurately predict where the colour will sit in the warp.  I consciously chose all-natural fibres of cotton, wool, paper, and mohair to further connect the viewer or user to the natural world that the collection narrates.
Which designers, makers or artists have influenced your work?
I wanted this collection to mimic the aura of these colossal rocks and minerals; emphasising the often-overlooked minute details, exploring themes of balance and control, subtlety, and elegance. I took great inspiration from American Minimalist artist Sol Lewitt, Hungarian Bauhaus painter Laszlo Moholy-Nagy and Piet Mondrian's abstract paintings. I began looking further into these artists as the COVID-19 lockdown began, as I started exploring drawn and paper concepts to further develop my collection. Lewitt's 1999 Etchings were incredibly influential in elevating my understanding of line and edge quality, while Mondrian's and Moholy-Nagy's works inspired balanced and considered compositions that demand the viewers' attention to detail.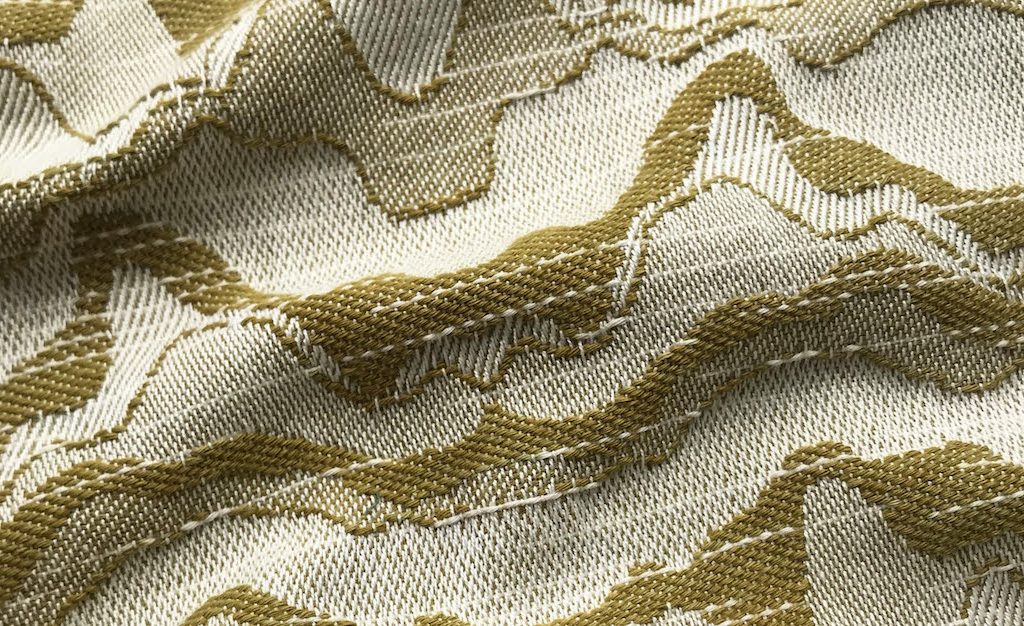 How did you manage to produce your degree show with limited or no access to workshops, libraries, tutors, technicians, or face to face support from BCU?
Our official graduate show in the university campus was unfortunately, but understandably, cancelled due to COVID-19. However, the course staff were proactive with promoting us on several online platforms including Instagram, the school's Fashion & Textiles online portfolio and New Designers 2020 graduate showcase. They also encouraged us to set up online portfolios on other websites such as Artsthread and The Dots to ensure we were promoting ourselves as much as possible. Despite not having that crucial face to face contact with tutors and technicians, staff were always willing to help us out over video calls and online sessions and they really deserve a lot of praise for how they continued to support us during lockdown; I'm so grateful for all their help.
In regards to my degree collection, I found myself having to change the final proposal for the project to accommodate the change in circumstances, and the lack of physically woven samples after facilities completely shut down. Luckily, I have my own tapestry loom and brought several cones of yarn in order to continue weaving a 'collection of woven material concepts' at home. I also returned to drawing and developing paper compositions to insinuate possible woven designs. I experimented more with the photography of samples I did have in order to convey different stories with the collection, and developed my skills in photoshop to create suitable and convincing visualisations. While it wasn't the degree show I was planning, I was still proud of what I was able to produce under such strange conditions.
I was extremely lucky to be invited back to the university during July 2020, following extremely strict COVID-19 health and safety procedures, to use the workshop facilities and physically resolve my collection into handwoven fabrics. After over 4 months of not weaving, it felt wonderful to be back on a loom; a strange euphoric feeling that completely affirmed that weaving is what I'm meant to do in my life.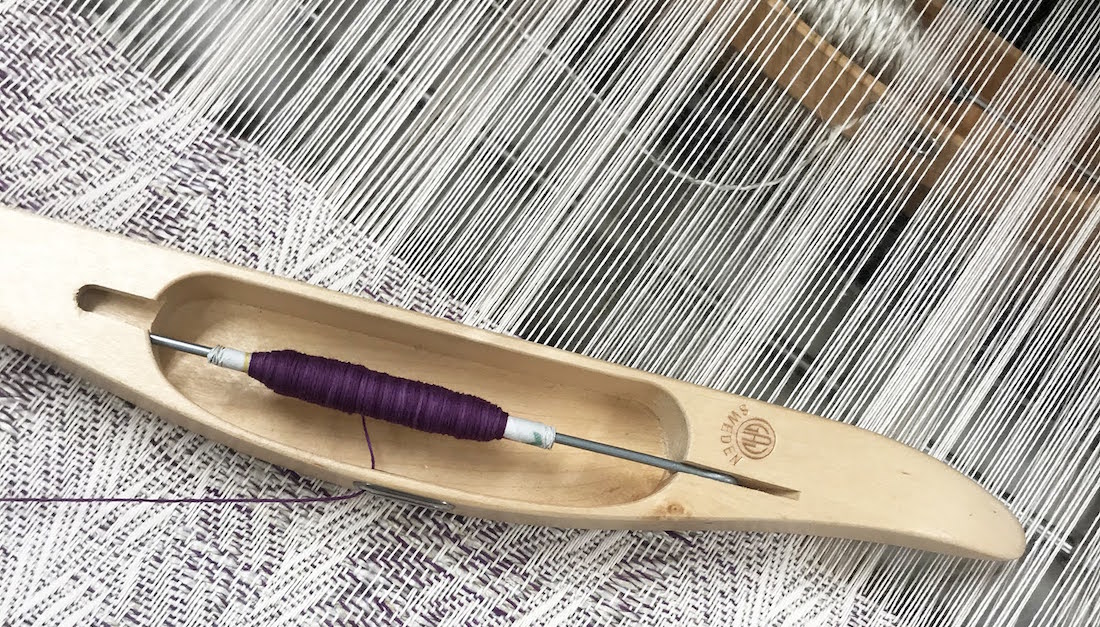 What did you find the most challenging about producing your degree show during lockdown?
I think the hardest part, strangely enough, was the emotional response to the whole situation. Completing such a hand-on and physically demanding degree like Textile Design from home and or virtually seemed almost impossible, and it was hard adjusting to the situation in the beginning. Emotions were really heightened and a lot of us expressed that we felt like we were 'mourning' the end of our degree. It was hard to stay motivated in the beginning, but once I'd adjusted and found a balanced work schedule, I found that throwing myself back into the project really helped me remain happy and sane when stuck in the house every day!
Do you think there have been any unexpected positive benefits to emerge from the restrictions that COVID-19 placed on final year students?
I'm not sure that many students would say they are grateful for the situation that has befallen us, but I do think, speaking from my own experiences, there has been some positives. For instance, students and creatives nationwide came together to create an extremely supportive community on social media platforms such as Instagram. There was a real sense of understanding, care, willingness to help and listen, and a ray of positivity that we could all get through it together. I made connections with people I may never have done without being placed under such restrictions and it has been truly uplifting to have such an extended network of creatives literally at my fingertips. COVID-19 has also enlightened me to the growing importance of successfully branding yourself across online platforms; during the lockdown I created a fully functioning website and am now consistently updating my Instagram and LinkedIn profile to reflect my personal ethos. The change from physical to digital work also pushed me to develop my skills in Adobe Suite and other digital technologies that are becoming increasingly desired by companies as the world turns ever more to technology.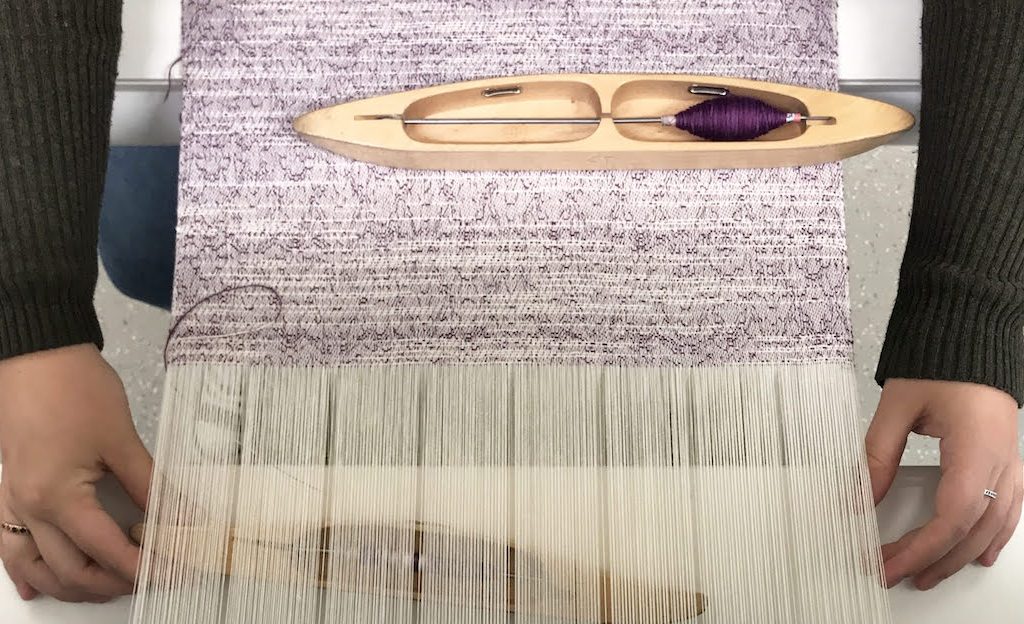 What are you planning to work on or explore next in your textiles practice?
I am currently actively looking for full-time work and internships and I'm excited to get into the industry. I've also just brought my first loom! It's a second hand 16 Shaft Ashford Table Loom from a lovely designer in London, which I'm excited to get set up on. I often gravitate to natural colours, fibres, and textures, but for my next project I'm stepping out of my comfort zone to explore bold colour, pattern and yarn quality combinations for fashion applications.