09 Sep

First day of InSite 14 – Monday

We have been blessed with the most wonderful September sun today, which made everything so much easier to set up.

Monday's artists were  all graduates from Birmingham School of Jewellery. they applied as a collaborative proposal with other members of a collective they formed on graduating, Each artist will attempt to make three large scale links each. their aim is to create a giant necklace.

Ruth Conway started proceedings for the Continued Collective. Ruth worked with digitally printed fabric, pre printed Perspex patterns and wood. Ruth worked diligently through out the day cutting, sticking, folding, sewing and gluing. Her work steadily developing.  By the end of the day she had produced three immaculate links.

Abbie Williams  started second. Abbie had a tall order to deliver intending to cut and soder her steel frames, before spraying them white and encasing sections in plaster.

Soldering with steel is a delicate operation which if not done carefully could contaminate the acid pickle used to clean the joints. Abbie was a little over ambitious and only managed to create two of her three links.

Peter Clark was the final artist to start his commission. Peter worked with a steel mesh. Peter is inspired by 1960's decaying architecture.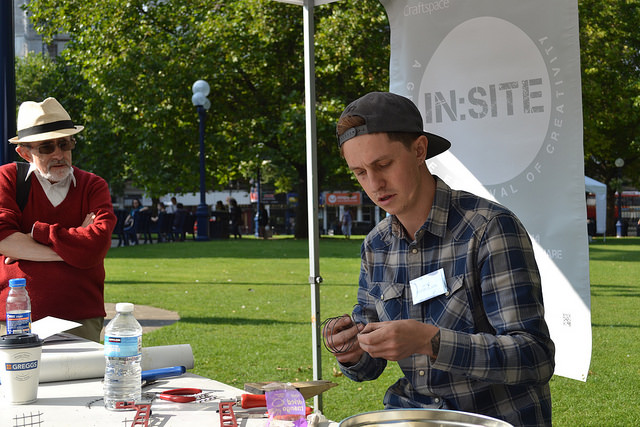 He produced steel boxes which he then filled sections with concrete before spraying the steel with a solution to speed up the rusting process. this solution was extremely quick and you could see the steel decay in front of your eyes. Peter was ably assisted through out the day by a passing volunteer who enabled him to successfully complete his task in the allotted time.
Disaster struck in the final hour when trying to install the tree works, resulting in Peter's brutalist concrete monster destroying Ruth and Abby's works.
We managed to install Peters work while Ruth and Abby will try to fix theirs and return later in the week to install.