30 Sep

Birmingham Weekender : Graphic and Digital Stitch Mash Up

It was a brilliant weekend at Birmingham Weekender on 26-27 September. The city was lively and busy with free outdoor performances, art and activities across the city centre.

Working in partnership with Ikon Gallery and VSM, Craftspace commissioned graphic illustrators Jobe Anderson and Anna Holowko to collaborate with textile artist Adele Fitzgerald to create an embroidered artwork all about Birmingham using software and a digital sewing machine.

Participation with the public was an important part of the weekend. There were two main questions the artists were asking: "What does Birmingham mean to you?" and  "My favourite thing about Birmingham is…"

We encouraged the public to write or draw the answers to those questions, as well as take part in colouring and collaging characters and buildings into personalised snapshots about Birmingham.

We also invited people to draw themselves in a window of the Rotunda, by the end of the weekend it was full of colourful portraits of the people of Birmingham.

People were excited to see the artists at work, Jobe created a large scale drawing with a diverse selection of characters, Anna prompted people to join her in drawing their favourite Brum building and Adele answered lots of questions from curious visitors who were intrigued by the digital sewing machine.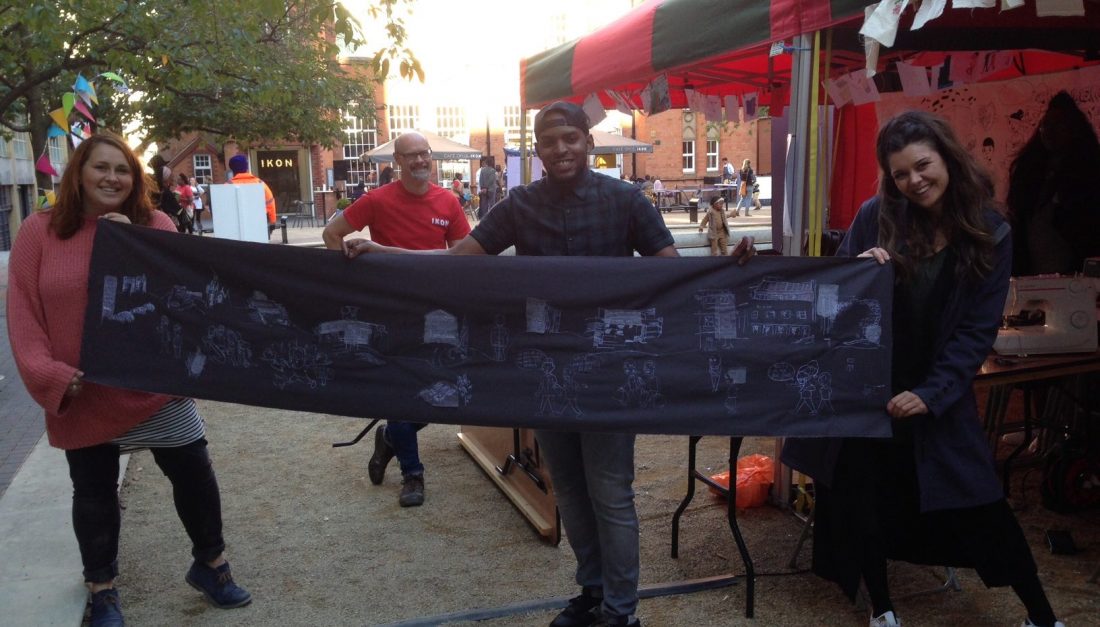 The final stitched art work completed after the two days of activity!
If you would like to know more about the artists' involved in the Graphic and Digital Stitch Mash Up click their names below: