06 Sep

In:Site 2017 – Day 3 Wednesday 6th September

Day 3 of In:Site festival and Eleanor is back to continue creating her stitched map of the Cathedral Square – it was wonderful to see some returning visitors today. Also joining us today was jeweller Gemma O'Neal who enthusiastically set up her pitch bowl ready for chasing copper.
Gemma O'Neal
Gemma graduated with BA 3D Design New Practice from Loughborough University. She invited members of the public to create wire sculptural aspects of the site which incorporated found objects, mixed media and chased copper.
Gemma spent the majority of the day next to her bowl of pitch where she was chasing copper (a method of hammering patterns into metals). She was thrilled to chat about the process and her jewellery making techniques to the passersby who were intrigued by her making. The delicate completed pieces were shown in a display case in the Cathedral.
To see more of Gemma's work and to keep up to date with her practice, visit her Instagram. 
Eleanor Price
During Eleanor's second day at In:Site many visitors from Tuesday stopped by again to sit, chat and stitch their addition to the map. By the end of the day it was full of colourful felt shapes and stitched patterns including flowers, a tent, many trees and of course people! This was displayed in the Cathedral for the Heritage Week launch before being hung on the railings outside.
Keep track of Eleanor's practice through her Instagram here.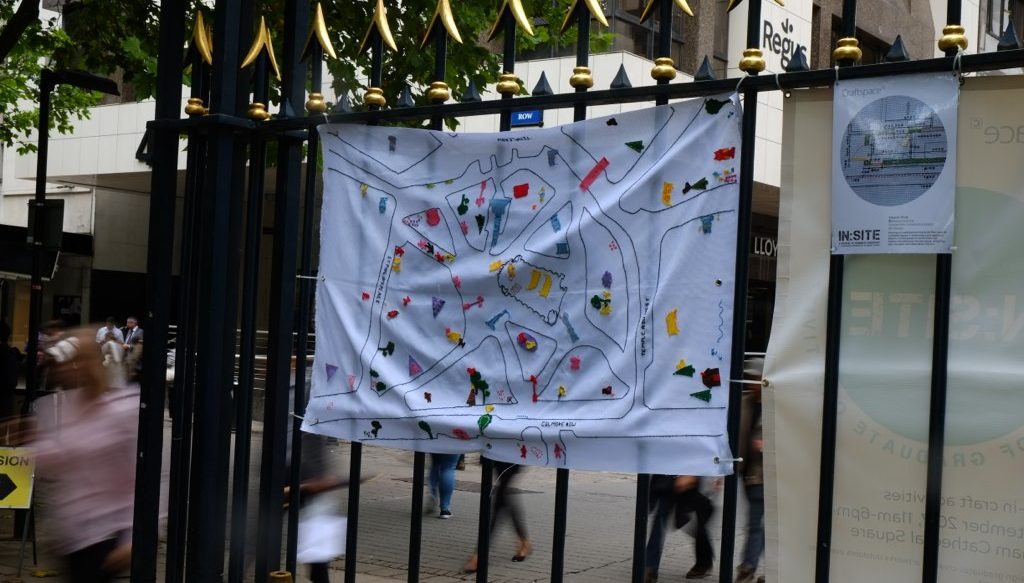 Sarah Christie and Jaguar Land Rover